Create your Recession ReserveTM
and
worry less about the stock market...or not at all!
Watch the short video below to learn how it works, then call (417) 881-7900 to schedule your Recession ReserveTM strategy session.
Meet with us to receive a free copy of Kenny's book, Bottom Line Financial Planning: Manage Risk And Fund The Good Life...Your Whole Life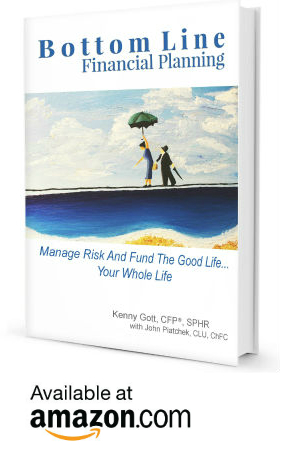 What people are saying**:
The 'Recession Reserve' idea makes sense to figure out how aggressively I can invest without having to worry as much when markets drop. -Amazon customer
Kenny Gott has a no-nonsense approach to financial planning. His wisdom for planning for the future is incredible. He understands how investing works and can explain it well. -Jeff
If you want a sound financial plan for a better future, begin here. -Elizabeth
Would recommend for anyone, but particularly for those getting closer to retirement. -Amanda
Frequently Asked Questions
What is "Recession ReserveTM?
It's an investment allocation method we developed to help our clients worry less about the stock market, or not at all. Your Recession ReserveTM is a pool of relatively stable funds from which we can raise needed cash when stocks are depressed...because if you don't "sell low" you don't lose money. For some, we may then analyze how much annual growth you need--and want--to meet your lifetime spending goals, and your legacy goals (what you leave behind). Finally, we help you balance all that against your "emotional risk tolerance", to help you sleep at night when markets are volatile. It's a centerpiece of Kenny's book, and you can click here to read Kenny's Springfield Business Journal article about it.
What will it cost to create my Recession Reserve?
Your Recession ReserveTM strategy session is free, and by the end of the meeting you should understand the Recession ReserveTM concept well enough to do it yourself if you wish...but you may want to take advantage of our other planning services that could significantly enhance your Recession ReserveTM results.
If more than one meeting is required to determine whether we can help, for example if you'd like us to analyze your current investments, there's no additional charge. If and when we believe we can help you further, we promise to be transparent about fees, and we promise to make recommendations that are in your best interest.
What other services do you offer?
Kenny is a CERTIFIED FINANCIAL PLANNERTM consultant, and we're securities licensed and insurance licensed--so we are financial planners as well as investment managers. We can offer whatever is in the best interest of each client, whether that's cost-efficient stock and/or bond funds, insurance products like annuities, or other investment products. On the planning side, we can assist with retirement and income analysis, investment tax management*, life insurance analysis and planning, pension analysis, legacy planning, basic estate planning* concepts, and more.
What is the cost of your other services?
You will not be charged anything until we determine whether you need and want our services, at which point we will be transparent about fees.
This is how we meet new clients, but we understand not everyone will want or need to continue further. If you decide you want us to manage your investments, our fees are fair, and we will discuss them before proceeding...and our other services will be included at no extra charge (periodic Recession ReserveTM strategy updates, retirement analysis and updates, tax management* of your investments, educational client events, etc.). If you need a stand-alone financial or retirement analysis and we're not managing your investments, we may charge a flat fee based on how complicated your planning situation is.
How do we get started?
Watch the short video above to understand how the Recession ReserveTM technique works, then call 417-881-7900 to schedule your free Recession ReserveTM strategy session. If you want to talk first, click below and complete the contact form, we'll reach out to you.
Call (417) 881-7900 today to schedule your Recession Reserve strategy session.
It's your future...
you earned it.
*Kestra IS and Kestra AS does not provide tax or legal advice. Any decisions about whether to implement these ideas should be made by the client in consultation with professional financial, tax, and legal counsel.
**Excerpts from Amazon.com reviews.